FAQ About Online Pokies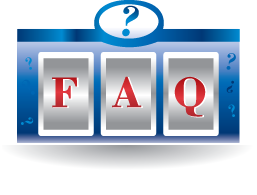 There are dozens of great online casinos where Australians have the option of playing pokies, making it easier than ever to place a bet any time you like. However, jumping right into real money online pokies can be a bit intimidating, so we've set up this handy FAQ to answer the most common questions about playing these machines. If you have a question about online pokies, the chances are that it's answered below!
So check out any of the premium iPhone pokies sites listed below and read through their respective reviews to find your next online casino! If you find one that seems to meet your needs well, sign up today with a free player account!
Here's the list of the top questions we receive here at OnlinePokies.org:
Can I play online pokies legally in Australia?
Absolutely! While there are laws that restrict the operation of online gambling sites in Australia, players are allowed to play in any international online casino they like, and on any pokies they choose.
What deposit methods can I use for online pokies casinos?
Australian pokies players have a wide range of options when it comes to making deposits into online casinos. Often, something as simple as depositing through a credit or debit card will work. If you plan to play at several online gambling sites, you might also like to set up an account at an e-wallet site such as PayPal or Skrill that can process most or all of your deposits and withdrawals. Other options include direct transfers from your bank account, prepaid vouchers through the Ukash program, or an online banking system such as POLi .
What is a payline?
A payline is a row or "path" of symbols across a poker machine that you can win on by matching identical symbols. The first payline on any machine is usually a straight line across the middle of the reels. However, pokies often offer dozens of paylines, some of which are made up of unusual patterns that move up and down the reels.
What is the difference between a 3-reel and a 5-reel game?
A three-reel game features only three reels (or columns) of symbols, while a five-reel game has five reels of symbols. Obviously, this means that five-reel games are significantly more complex and can potentially offer more paylines and special features.
Are the results random?
Poker machines are designed so that each spin is random and independent. No matter what has happened on recent spins, the odds of you winning are the same on every single spin you play.
What are "free spins?"
Free spins are spins that are awarded to players, usually by matching specific symbols on a payline or anywhere on the pokie. These spins are played for the same stakes as the spin in which they were triggered, but cost you nothing, and often come with multiplied winnings.
What are "bonus games?"
A bonus game is a special feature on a pokie that can be activated either at random or by hitting certain symbols during a spin. These games usually offer large prizes and involve a different type of gameplay than the typical spin. For instance, you may be asked to pick between several hidden prizes, or play an interactive game to see what your reward will be.
What are "scatter" symbols?
A scatter symbol is a special symbol that can score wins regardless of where it appears on the reels. While regular symbols must be matched across an active payline, a scatter symbol wins if you match enough of them anywhere on the screen. Scatter symbols are also often used to award free spins or bonus rounds.
What are wild symbols?
A wild symbol is one that can substitute for any normal symbol as part of a winning payline. In other words, if it takes three cherries in a row to win a prize, two cherries and a wild symbol will also count as a win. Wild symbols sometimes come with multipliers that double or triple the size of your win.
What are progressive jackpots?
A progressive jackpot is one that grows as players play the pokie that the jackpot is associated with. A very small portion of each bet on the machine goes towards the progressive jackpot, allowing the jackpot to grow larger until a player eventually wins it. Some progressive jackpots can become extremely valuable, with several online progressive jackpots having awarded millions of dollars to winners. Read more about the great range of progressive jackpots available here .
Should I always max bet?
It is often correct to make the maximum bet on a pokie, as the full bet may be needed in order to get the best odds or be eligible for big prizes, such as a progressive jackpot. However, you also want to be comfortable with the size of each bet, so you'll want to know the specific rules before deciding how much to wager on each spin. A good rule of thumb is to bet the maximum number of coins, but to do so at a denomination of coin that is comfortable for you.
What are coins?
A "coin" in terms of playing a pokie isn't a physical coin, but an amount of money that represents the amount you are wagering on a poker machine. For instance, in a "penny" pokie, each coin costs AU$0.01 to play. However, players will generally be required to bet at least one coin on each payline they wish to activate, and players are often allowed to play multiple coins per line if they wish to. This means that it is often possible to bet dozens or hundreds of coins on each spin.
How does the number of symbols affect a pokie?
If a pokie features numerous symbols, that will give you additional ways to win. However, it also means that matching several of the same symbol may be more difficult, as all of the other symbols will have a tendency to get in the way. However, since a machine might be set to make certain symbols hit more often than others, the number of symbols is really a minor factor in a pokie, and won't tell you much about your underlying odds of winning.
What is the "gamble" feature?
Many online pokie offer a gamble feature after a winning spin. This feature will give you a chance to double your winnings in a game of chance – usually a flip of a coin, or guessing the colour of the next card out of a deck. These games typically don't have a house edge, and are there just to give you the option of playing a "double or nothing" game with fair odds. Some gamble games often even more options, allowing you to protect part of your winnings and manipulate your odds of winning and the associated payouts.
What is a casino's payout percentage on pokies?
The payouts on any given pokie can vary tremendously, and no two machines are likely to have the exact same payout percentage. Typical poker machine payouts range from 90% to 95%, with some going even higher. This compares favourably to the payout percentages offered by live pokies in casinos or pubs in Australia.
Will a lucky charm have any effect on my spins?
While lucky charms can be fun and might make you feel more confident during play, they won't have any impact on the pokies you play. The odds on every spin will be the same, with or without your lucky rabbit's foot.
hould I play a machine that just paid out a big win?
In most cases, whether or not a pokie has just paid out a big win shouldn't influence whether you continue playing or not. Poker machines offer prizes randomly, so they are never "due" or "cold." The one exception can come right after a large progressive jackpot is awarded: if the jackpot is now very low, the payout percentage for the machine will also be lower, meaning you might want to find a different game to play. More common myths about slot machines can be found in this article From HowStuffWorks.com.
If you have any questions that were not answered here, please contact us any time!