Alaskan Fishing

Online Pokies Review
Alaskan Fishing Free Online Pokie Game
How to play for real money
1 Download and install the free casino software
2 Register and create your new account
3 Make your first deposit. Your bonus will be automatically credited to your account!
Play for real money
One of the more modern pokies out there, today we'll be taking a look at whether or not the Alaskan Fishing Australia online pokies game is something Aussies actually crave. The game's theme, clearly designed to appeal to fishermen and hunters, is one of the best looking out there and it's also available on mobile.
Prior to writing this review I'd actually already spent some time playing Alaskan Fishing. Online pokies rating is a funny old game, and it's always interesting to come across a title you're already familiar with when you sit down to write a batch of reviews.
With two separate bonus rounds, a visually appealing theme and the chance to take home some good jackpots, let's take a closer look at Alaskan Fishing.
How To Play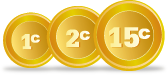 The style of play here is a little different to some of your other, titles by Aristocrat for example, Australia online pokies. Alaskan Fishing has no 'double or nothing' features to gamble your winnings, it's just a pure 'one button' pokie.
Personally, I prefer games like this, as I find it far too tempting to gamble my winnings on whether a card will be red/black or a coin will be heads/tails. I usually push my luck too far and end up missing out on some winnings.
A few of the key features of Alaskan Fishing are as follows:
243 ways to win – You can really tell this is the case when you're playing too. It's not uncommon to encounter several wins in a row.
Bonus features – Two distinct bonus rounds, one based around automatic free spins and another that involves some player interaction.
3 coin sizes (0.01, 0.02 and 0.05) – This isn't a great range, and it does limit the max bet you're able to put down per spin.
There are a lot of different symbols in play here, so it's worth taking a look at the game's pay table when you sit down to play so you know which symbols you should be rooting for.
Graphics/Sounds
The theme here is the Great Outdoors of the Alaskan Wilderness, and it's done very well. Symbols include bears, lures, reels, bi-planes and colourful scenes from the woods. When you win, these come to life with some really smooth animations that look fantastic.
You'll either love or hate the jangly country music soundtrack—you can always mute it if you fall into the latter category—but personally, I think it's great. In fact, I still find myself humming it days after playing Alaskan Fishing.
Of the countless flashy video slots out there, I actually think Alaskan Fishing is still one of the best because it does a really nice job of transporting you to another time and place, which is a big part of what online gambling is all about.
Bonus Features
Alaskan Fishing provides two distinct bonus rounds. The first, triggered by the appearance of an angler in the first and fifth reels, is an arcade style fishing mini-game that prompts you to select five spots where you think the biggest fish are hiding.
The second is a scatter bonus round triggered by the appearance of three or more tackle boxes. This provides players with 15 free spins and a 2x multiplier throughout.
In my experience, both rounds yielded roughly the same payout. In my case, this was around 20x the original stake I was playing with. I hadn't been playing for long before I encountered both of the bonus rounds, so I think it's very possible to make a tidy profit playing Alaskan Fishing.
Alaskan Fishing Online Pokies Review
With one of the best themes out there, my Alaskan Fishing pokies review is pretty much a rave one. The visuals and country music might be more suited to players in the US, Aussie players who are keen anglers or just enjoy the great outdoors will definitely enjoy it as well.
While it's true that, in my experience at least, neither bonus round resulted in me winning a huge jackpot, I felt like I could extend my playing time long enough to get some nice wins without having to keep feeding AUD into the machine.
If Alaskan Fishing does have a downside, it's the comparatively low maximum bet and jackpots; this probably isn't the game for high rollers looking to take a chance with large sums of money.
However, that's a minor criticism, and I think that Alaskan Fishing is a great title that's definitely worth checking out.
Reviewed By: OnlinePokies.org