Arctic Fortune

Online Pokies Review
Arctic Fortune Free Online Pokie Game
How to play for real money
1 Download and install the free casino software
2 Register and create your new account
3 Make your first deposit. Your bonus will be automatically credited to your account!
Play for real money
Not what you might necessarily expect, Arctic Fortune isn't all polar bears and Santa Claus (although now that we mention it that sounds like it could make for one heck of a game) but is actually a Viking themed title.
It might be of interest to Australia online pokies fans because of the special way it handles paylines—more on that below—and the impressive hordes of Viking loot on offer to lucky Aussie players!
When writing my Arctic Fortune online pokies review, I had an interesting experience that I'll tell you a little more about below...
How To Play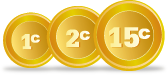 First of all, let's look at a couple of the most interesting features Arctic Fortune has to offer:
No paylines! – Yes, you read that correctly. Taking its leave from most Australia online pokies, Arctic Fortune has ditched the standard payline model and instead offers a staggering 1024 ways to win.
Bonus features – This is really neat. When you trigger a bonus round, you're prompted to play a World of Warcraft style mini-game that determines the number of free spins you get and your multiplier.
You can play with coins of value 0.01 all the way through to 0.20, which means the game is suitable for beginners and high rollers in Oz alike.
There's no 'double or nothing' feature like in some other pokies, so the gameplay is incredibly simple. You just choose your coin value, how many coins to bet and then you're good to go.
In some respects, the game is incredibly simple. Except for the bonus game, all of the action is controlled with a single button. Some players might not like that, but it does mean that it's a great game to play while you're doing something else that demands a lot of attention.
Graphics/Sounds
The Viking theme and dramatic music is great, with drinking horns, white wolves, Nordic warriors and longboats all making an appearance. Of course, the symbols you're really looking for are the scatter map—find three or more of these to trigger the bonus round—and the wild shield.
The animations aren't quite as snazzy as some other titles, but it's still a nice touch that symbols come to life when you score a win. Compared with other Australia online pokies, Arctic Fortune sits somewhere in the middle. It's not the best looking title on the market, but it's far from being the worst as well.
The spider mini-game isn't going to be taking World of Warcraft's crown any time soon, but it's a fun little interlude that's not like anything you'd find on titles in most land-based venues in Oz.
Bonus Features
Here's where things get really interesting. Arctic Fortune lets players take up to 40 free spins with a multiplier up to and including 6x. That's pretty generous by the standard of any other Australia online pokies. Arctic Fortune gets a big tick from me on that front.
Of course, you can never take one person's example and expect the same thing to happen when you play, but it's worth me telling you about my experience with the game. After 10 or so spins, I found myself enjoying 20 free spins with a 3x multiplier and came out the other side of the bonus round with a bankroll that was quadruple what it had been before. Not bad for a few minutes play.
Even if you don't get lucky, the huge number of free spins you can win and a hefty multiplier to boot means that Arctic Fortune's online pokies rating definitely earns itself some points here.
Arctic Fortune Online Pokies Review
I was pleasantly surprised at how much I enjoyed this game when I started playing it for my Arctic Fortune pokies review. True, that may be down to the fact that I landed myself in the bonus round a couple of times in quick succession, but the game feels like you always might be just a few spins from a scatter bonus.
You need a decent bankroll to get the best out of it, as the bonus round is where you stand your best chance of making some serious profit but, provided you're willing to lay out the AUD to maximise your chances, it's a good option.
There's no shortage of Norse themed slot machines, with Thunderstruck II and Viking Age already on the market, but there's enough here to get Aussie players to give it a try if they're in to that sort of thing.
Reviewed By: OnlinePokies.org