Avalon

Online Pokies Review
Avalon Free Online Pokie Game
How to play for real money
1 Download and install the free casino software
2 Register and create your new account
3 Make your first deposit. Your bonus will be automatically credited to your account!
Play for real money
A Mediaeval themed slots title by Microgaming, Avalon has a pretty good reputation with Australia online pokies fans. We'll find out why below, but a big part of it is that the game is accessible for both complete beginners and high rollers.
The name, Avalon, refers to where King Arthur's sword was made. Not often you get a crash course in ancient legends when you're playing Australia online pokies; Avalon is an exception to that rule!
In this Avalon online pokies review, we'll take a closer look at why this title has become so popular despite appearing to be just another slots title on the surface.
How To Play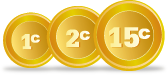 With 5 reels and 20 paylines, the game has much in common with many other Australia online pokies. Avalon has gameplay that's really simple, and once you've chosen the size of your bet all you need to do is hit spin.
20 paylines - That's not as many as some other titles which have 25+ paylines or offer 243 (sometimes even more) ways to win, but the game doesn't suffer. Wins still feel fairly regular, and you're not left wishing Avalon had more paylines.
Bonus features – Avalon is a little weak in this department. It has a generous free spins feature, which we'll talk more about below, but there's not much else in the way of bonus features.
Avalon allows you assign an upper value of 0.5 to coins, so you can place a max bet per spin around the 100 AUD mark. This is higher than a lot of other games, which makes it popular with higher rollers in Oz.
The game allows you, if you want to do so, to go double (or quadruple) or nothing by attempting to predict the colour or suit of a random card every time you get a win. Taking a risk on this every now and then can really help you boost your bankroll though, personally, I find it difficult to gamble a big win on the flip of a card.
Graphics/Sounds
With an elaborate cursive font and symbols including crowns, jewels, castles, treasure chests and The Lady of the Lake holding the mighty Excalibur, Avalon certainly captures the extravagance of King Arthur and his round table. And Jacks, Queens and Aces, which can sometimes look out of place on themed titles, fit perfectly here.
The graphics and animations are better than a lot of other titles, but they are starting to look just a little dated. If you compare it with other Australia online pokies, Avalon still looks pretty good for its age and only very modern titles are noticeably better.
The music and sounds are a little bit tinny and might grate on you after a while, but you can always mute them if that's the case.
Bonus Features
If you're lucky enough to see three or more Ladies of the Lake after a spin, Avalon will trigger a bonus round of 12 free spins. An extra wild appears during these free spins and—here's the kicker—you also get a multiplier of up to 7x.
Now we're starting to see why the game has a good reputation with Aussie players and average Avalon online pokies review is overwhelmingly positive. A multiplier of 7x is much better than most offered by newer titles, and even other Microgaming titles. If you feel inclined, you can even gamble your winnings from the bonus round in the red/black mini-game.
This can net you such impressive winnings that most players aren't even worried about the absence of any other dedicated bonus game.
Avalon Online Pokies Review
With a good range of coin values, a really outstanding free spins bonus round and a hefty max bet to keep high rollers happy, there's a bevvy of reasons why every Avalon pokies review tends to be glowing.
Yes, the graphics and sound leave a little bit to be desired, but that great free spins bonus round more than makes up for it. And it's not even as if you need to play for hours before triggering it either. I encountered the bonus round a couple of times while playing using the max bet and had only been on there for 10 minutes or so.
There's some strong competition in the Mediaeval pokies department, including King Arthur and Arthur's Quest II but—especially considering it's an older title—Avalon does a good job of competing with them and can hold its own. It gets my seal of approval!
Reviewed By: OnlinePokies.org