Break Da Bank Again

Online Pokies Review
Break Da Bank Again Free Online Pokie Game
How to play for real money
1 Download and install the free casino software
2 Register and create your new account
3 Make your first deposit. Your bonus will be automatically credited to your account!
Play for real money
A very well-liked title by Microgaming, and a follow-up to the extremely popular Break Da Bank, BDBA (as it's often known by players in Oz) is a title that people either love or hate.
The main reason for this is that it's very volatile. What that means is that it's possible to go for a long time without a single win, then suddenly rake in a huge sum of AUD thanks to a 5x multiplier triggered whenever the Break Da Bank Again logo is part of a winning line.
Obviously this is great if you sit down and get lucky after a few spins, but it also means that you can put a real dent in your bankroll chasing a win. This Break Da Bank Again online pokies review will tell you a little more about the game so you can figure out whether or not it might be for you.
How To Play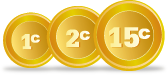 The game has 5 reels and 3 rows, so it looks like a lot of other Australia online pokies. Break Da Bank Again is different from its predecessor in that it has two more reels and plays more like a standard slot machine, while BDB is more like a fruit machine.
Let's look at a few of the basics:
9 paylines – Yes, just 9. That's less than half what most other 5-reel games offer, and you really do feel their absence. Quite often a spin feels like it should be a win but, because there's no payline there, you get nothing.
Bonus features – BDBA has a decent free spins bonus round with a nice multiplier. I'll talk a little more about my experience with it below.
The max coin value of 0.25 is not bad but, with a max of 10 coins per line and just 9 lines, the max bet of 22.5 AUD isn't going to blow high rollers away.
Like in many other Microgaming and Aristocrat titles, you can choose to gamble your winnings on the turn of a card. Predict the colour correctly and you can double your winnings, but predict the suit correctly and you'll quadruple them.
One thing I like about BDBA's gamble feature is that it gives you the last 7 card results, while most titles only give you 4. There's no science to betting on or against streaks, but it still feels good to have more information about previous cards.
Graphics/Sounds
The name may sound a bit like a '90s rap album, but the theme of Break Da Bank again is a jewel heist. Symbols include stacks of money, checks, coins and gold bullion. I actually quite like the theme, and there aren't too many symbols to keep track of which is a plus.
The sound effects are quite arcade-y, but the music is a rather odd minimal suspenseful track with some ambient bank sounds thrown in. It works just fine, but it's not particularly catchy. But then again we're looking for big wins, not catchy tunes, right?
Bonus Features
Get three or more vaults on a single spin, and a bonus round will trigger. This is indicated by a rather satisfying animation of a banker unlocking the vault and inviting you inside.
Players get 15 free spins with a 5x multiplier, which is not too shabby, but this can increase to a 25x multiplier whenever two or more BDBA symbol are part of a winning line.
I'd burned my way through well over half my bankroll, even with some lucky gambles, before I even got a look at the bonus round of Break Da Bank Again. Online pokies rating depends hugely on bonus rounds proving their worth and, in my case, BDBA didn't do too astoundingly. My first 10 spins yielded nothing, but the last 5 replenished my bankroll to what it had been when I started.
Not particularly satisfying but, equally, I can see how a few lucky spins in the bonus round could take you way into profit and make it worth cashing out afterwards.
Break Da Bank Again Online Pokies Review
A common thread in just about every Break Da Bank pokies review or story is that wins, more often that not, come in the bonus round and only replenish your bankroll rather than netting huge profits.
If you like to take this sort of big risk I can't really see anything to recommend Break Da Bank Again over playing a progressive title instead. Even a big win on BDBA won't be anywhere near the hundreds of thousands of even millions of AUD you stand to win playing progressive slots.
All that said, if you like volatile pokies with a good multiplier thrown into the mix, Break Da Bank Again might just fit the bill.
Reviewed By: OnlinePokies.org