Tomb Raider

Online Pokies Review
5 Dragons Free Online Pokie Game
How to play for real money
1 Download and install the free casino software
2 Register and create your new account
3 Make your first deposit. Your bonus will be automatically credited to your account!
Play for real money
Microgaming released Tomb Raider Secret of the Sword as a follow-up to the very well received Lara Croft Tomb Raider slot. It's worth pointing out that, if you're an Angelina Jolie fan, you won't find her here. Instead, this title is based on the video game series of the same name.
Positioned as a female Indiana Jones, Lara Croft is a well-endowed (no doubt a factor in Tomb Raider's popularity with teenage boys) adventurer who searches the globe for hidden treasure. You might say that Aussie slots players have a lot in common with Lara, although we go about that goal in slightly different ways!
In this Tomb Raider Secret of the Sword online pokies review I'll be looking at how the game compares to the original Lara Croft game, as well as whether or not it has the features and bonus rounds to compete in a very saturated pokies market.
How To Play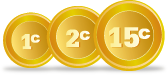 Nothing too different here from most other Australia online pokies; Tomb Raider Secret of the Sword has 3 rows, 5 reels, scatter bonus symbols and assorted paylines. With no option to gamble winnings on a coin toss or card flip, the gameplay is extremely simple so it's dead easy to get started with.
A few noteworthy features and aspects of the game include:
30 paylines - Not as many as a lot of titles, but double the number of the original Lara Croft. As a result the volatility has dropped, so you can expect more regular wins and free spins.
Bonus features – Three bonus rounds! More on these below, but suffice to say that three different bonus rounds is a lot more than you can expect from most big name titles online or in Oz.
With a coin size up to 0.20 and a maximum wager of 300 coins, you can drop up to a maximum of over 50 AUD.
One selling point is that it's quite common to encounter a couple of scatter bonus symbols. Since two of these reward you with double the value of your spin, you can expect a session to last for a while based on that fact alone.
Graphics/Sounds
This slot is every teenage boy's dream come to life. The gorgeous Lara Croft is as striking as ever, and is complemented by smooth animations that really catch the eye.
The music is your standard dramatic action movie fare—haunting tones with the odd piano chord and rapid drumbeat mixed in for good luck—but if it's not to your taste you can just mute the whole thing.
The first Tomb Raider game was released way back on the PlayStation and the game looks far better than that, although it's not quite on par with the very latest next gen Lara Croft games.
Bonus Features
With two free spins bonus rounds and one pick 'em bonus game, we definitely need to add a few points to our Tomb Raider Secret of the Sword pokies rating for generosity.
The first, and easiest to explain, bonus round is a randomly triggered free spins bonus round with 5 free spins and extra wilds. Simple, but can be very effective. The other free spins bonus round is comprised of 10 spins with a possible multiplier of 2x to 5x. Tumbling reels are included, where symbols disappear after forming part of a win, which can generate a multiplier of up to 5x if you keep on getting lucky.
The final bonus round, the Global Adventure Bonus, is triggered by 'activating' all five reels by getting a passport symbol in the centre of each reel. You must then pick a destination and some objects to win some AUD bonuses, with a shootout bonus also possible.
Tomb Raider Secret of the Sword Online Pokies Review
With a maximum jackpot of just over the 10,000 AUD mark, you're unlikely to be able to retire on the winnings from this game. Still, my Tomb Raider Secret of the Sword pokies review ultimately has to be a pretty good one.
With three bonus rounds and lots of smaller wins, the game fits the bill of what a lot of Aussie players are looking for when they hit the slots. A life-changing win may be unlikely but the game is fun and exciting and, for those in their twenties and thirties, the game's central character has a certain nostalgic aspect that it's fun to revisit.
Not the best game in the world by any means, but it's an excellent choice for a low variance slot to pass a little time on.
Reviewed By: OnlinePokies.org