CashOccino

Online Pokies Review

This Free Game is currently not available, please try

Jurassic Park

instead.
Cashooccino Free Online Pokie Game
How to play for real money
1 Download and install the free casino software
2 Register and create your new account
3 Make your first deposit. Your bonus will be automatically credited to your account!
Play for real money
Starbucks don't make pokies but, if they did, we guess that they might put out a slot machine that looks a little something like Cashochinno. Yes, a coffee bar might be a bit of an odd choice for a theme, but I suppose all pokies themes are a bit arbitrary when you think about it.
Another Microgaming title, you know more or less what to expect with CashOccino—online pokies ratings for Microgaming titles tend to be fairly similar—but the game does have a twist or two up its sleeve that sets it apart from other titles.
But let's not get ahead of ourselves, before we get to the twists and turns you might not be expecting, we'll kick off our CashOccino online pokies review with some of the basic 'need to know'.
How To Play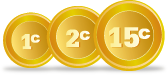 Nothing out of the ordinary here – 5 reels, 3 rows, a decent number of paylines. This game looks pretty much the same as a huge number of other Australia online pokies. CashOccino really stands out because of its extra bet function, which we'll talk a little more about below.
Let's look at a few stats relating to the game, shall we?
30 paylines – Not quite as many ways to win as the 243+ possible in some other Microgaming titles, but 30 paylines is not bad at all.
Bonus features – No dedicated bonus mini-game in CashOccino, but you'll find a good free spins bonus round on offer.
Minimum/maximum bets – Only 3 coin values (0.01, 0.02 and 0.05), which isn't great, but you can bet almost 1000 coins per spin so high rollers probably won't be too put off.
There's no red/black card mini-game, like the one you see in so many Microgaming and Aristocrat titles, to double your winnings here but there is an extra bet you can place in the hope of triggering extra free spins. It's this that sets the game apart and makes it worth a look if the thought of an extra bet doubling the length of your bonus round is an appealing one.
Graphics/Sounds
The graphics and sounds aren't bad at all. CashOccino's pokies rating doesn't suffer at all here, though the lack of a bonus mini-game means that there's not all that much to look at beyond symbols for Mocha Swiss, Espresso, Americano and scatter bonus coins.
My guess is that you'd probably end up playing this game if you're a real coffee lover, sitting somewhere in Oz sipping on your favourite brew, and take the appearance of the game as fate. If that's the case, the graphics and sounds are definitely passable and they won't chase you away.
Bonus Features
Without placing the extra bet, you'll get 15 free spins and a 3x multiplier when three or more scatter symbols appear. If you are, which requires wagering 150% of the standard bet, you'll get 30 free spins instead.
A number of free spins as high as 30 is pretty rare in Australia online pokies. CashOccino players, for that reason, should definitely consider placing the extra bet if they're planning to play the game for a while. However, whether you choose to place the extra bet or not, make sure you stick with your choice! There would be nothing to worse to get to the bonus round one spin after you stopped placing the extra bet.
If you do decide to place the extra bet, it's unlikely you'll recoup your losses unless you make it to a bonus round, so make sure your bankroll is prepared to weather the storm. When you do get there, the fact that you get double the amount of spins with a 3x multiplier means you stand to walk away with a tidy profit.
CashOccino Online Pokies Review
It's difficult to be too harsh in a CashOccino pokies review, because the game really is pretty good despite its rather offbeat theme. The extra bet is a neat twist, reminiscent of the way side bets in certain blackjack variations shake up a game you know and love, but it does mean that you need to come prepared for a potentially long haul with plenty of AUD.
Best enjoyed with a fresh cup of java, CashOccino is unlikely to knock any of the old standards from their top spots, but it's still an entertaining game with a potentially very lucrative bonus round—whether you're placing the extra bet or not—that can see you walking away with some very substantial prizes. Wake up and smell the coffe, Oz, we might just have found your new favourite game!
Reviewed By: OnlinePokies.org