Mega Moolah

Online Pokies Review

This Free Game is currently not available, please try

Jurassic Park

instead.
Mega Moolah Free Online Pokie Game
How to play for real money
1 Download and install the free casino software
2 Register and create your new account
3 Make your first deposit. Your bonus will be automatically credited to your account!
Play for real money
It's very common for slots titles to use hyperbole in their names, talking about breaking the bank or finding gold, but they don't always live up to it. They talk the talk but can't walk the walk, as people say. That's unfortunate, because it means that some people might ignore a title like Mega Moolah because they think it's just another game blowing its own trumpet.
Every Mega Moolah online pokies review should start by clarifying that this title isn't kidding when it talks about how much money Aussie players can bag by taking party. Known by many punters as the 'millionaire maker', it's not uncommon for players to take home jackpots worth several million AUD.
For that reason alone it's worth checking out, but we'll also be talking you through some of the features, bonuses and so on. The really pleasant surprise here is that the game actually has a number of positive points to recommend it beyond just it's mega progressive jackpot.
How To Play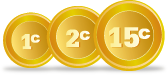 Aside from its progressive element, the game resembles most other 5-reel Australia online pokies. Mega Moolah isn't particularly complicated to get to grips with, which is a blessing for players who want to dive right in. Let's take a look at some of the key features/aspects of the game that players in Oz often want to know about.
25 paylines - Not too shabby at all, this provides more than enough ways to win to keep you playing for a while and chasing that progressive jackpot.
Coin values spanning 0.01 to 0.05, but a maximum bet of 125 coins means there's enough here to keep players with deeper pockets full of AUD interested as well.
Bonus features – As well as the huge progressive jackpot mini-game, you'll also find a more traditional free spins bonus round which can net you some real cash too.
No option to gamble your winnings after every successful spin here, but that just means that it's even more simple to sit down and start spinning the reels. There's also the progressive bonus to deal with but we'll get to this below, and there's nothing you need to know or do to be eligible for it. Result!
Graphics/Sounds
Another day, another animal themed Australia online pokies title! Things are a little different to 50 Lions and Lions Pride because the graphics are more cartoony. The symbols are cute and colourful, and still look pretty good despite the fact the game has been around for a while.
Atmospheric sounds of the African plains are occasionally broken up by a colourful ditty, and the tribal songs are fun, but the music isn't anything special.
But, let's be honest, this isn't the sort of game you play for its graphics or sounds anyway. This is all about the thrill of the hunt!
Bonus Features
Get 3 or more head hunter trophies and you'll trigger a bonus round with 15 free spins and a 3x multiplier. Considering this isn't even the main draw of the game, these numbers are actually pretty generous and it's possible to rack up some decent wins over the course of a bonus round.
However, the real draw here is the randomly triggered progressive bonus. This Wheel of Fortune style mini-game, which can spring up and surprise Aussie players at any time, is the key to winning one of four big AUD jackpots:
Mega progressive – starts at 1,000,000
Major progressive – starts at 10,000
Minor progressive – starts at 100
Mini progressive – starts at 10
The wheel contains just one slot to trigger the mega progressive, so don't get your hopes up too high, but that's what we're all aiming for! There are more slots for the major progressive, which can still reach some very high numbers too.
Mega Moolah Online Pokies Review
You just can't write a bad Mega Moolah pokies review. The mega progresive jackpot is just so big that you can't help but daydream about winning it the entire time you're playing. And the fact that the progressive bonus round is randomly triggered means that you really could become the next big winner at any moment.
It's difficult to recommend any of the other jungle or animal themed titles over Mega Moolah since, on top of the huge jackpots on offer, the standard bonus round is pretty good too. Throw in some nice graphics, redolent African ambient sounds and you just can't lose.
Recommended for Aussie players who've always dreamed of snaring a truly life-changing jackpot.
Reviewed By: OnlinePokies.org