The Palace Group

Online Pokies Review

This Free Game is currently not available, please try

Jurassic Park

instead.
The Palace Group Free Online Pokie Game
How to play for real money
1 Download and install the free casino software
2 Register and create your new account
3 Make your first deposit. Your bonus will be automatically credited to your account!
Play for real money
First things first, we need to clarify something that might be confusing you. In some of our reviews of other Australia online pokies, The Palace Group gets mentioned. Now all of a sudden we're presenting you with The Palace Group online pokies review. So what's the deal?
The Palace Group actually refers to two different things:
A handful of Microgaming-powered casinos that are run as a group
A slots title that acts as a promotion for casinos in the group by featuring their mascots, but is also a lucrative and fun game in its own right
Some Aussie players might balk at the idea of playing a slots title that is—at least on some level—designed to advertise partner casinos but actually, you'll see below that the game offers some intriguing features that absolutely make it worth a closer look at.
How To Play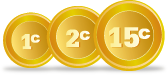 There's nothing too different here from the majority of Australia online pokies. The Palace Group has 3 rows, 5 reels and a scatter bonus included amongst its many symbols.
You might find some of the following features interesting:
25 paylines - This is not as many as some titles, and it's around half of what most modern titles offer at a bare minimum. However, in my experience, it still offers enough ways to win that you don't feel cheated by a result that "should have been a win."
Bonus features – There's an excellent bonus round on offer here, with a bit of choice to help you tailor the game to your own personal style of play.
Wilds – Plenty of titles on the market in Oz have wilds, but what's less common is that in The Palace Group wilds have the added bonus of trebling your win. Get a line of three or more symbols, one of which is wild, and suddenly you're looking at a really nice win
One minor niggle is that free spins can't be reactivated during a bonus round, with the opposite usually the case in the titles from our other pokies reviews. The Palace Group loses a few points here, but that's a very minor complaint.
Graphics/Sounds
The Palace Group's basic and bright graphics have more in common with a fruit machine than most modern video slots. However, I think that's a calculated look rather than being down to the game being out-dated or poorly designed. The symbols in the game include characters and icons relating to members of The Palace Group.
The music and effects get the job done, but this is definitely a title that you'd visit because you like the way it plays or you've had a good experience with it paying out in the past rather than because you're after a visual treat.
Bonus Features
Trigger a bonus round by finding 3 or more scatter symbols and you'll be prompted to choose from the following:
24 free spins with a 2x multiplier
16 free spins with a 3x multiplier
12 free spins with a 4x multiplier
This is great because it means that, if you're a risk-taker, you can go for the higher multiplier and fewer spins but more cautious players can choose to opt for a greater number of spins instead.
Our The Palace Group pokies rating earns itself some points here, as this is a pretty generous bonus round. Throw some wilds into the mix and things can really get crazy! This is just me, but I'd tend to go for 16 free spins and the 3x multiplier. Even if you don't have the best luck, you're bound to get some wins out of that and walk away with some AUD as a result.
The Palace Group Online Pokies Review
People who bother to check out The Palace Group pokies review are making a good decision. It'd be easy to write the game off as self-promotional and assume that there wouldn't be much in the way of wins to be had.
As we've seen, that couldn't be further from the truth. The game isn't anything out of the ordinary, especially in terms of graphics and sounds, but there are some good wins to be had and a wild that triples your win is definitely not to be sniffed at.
Aussie players often get drawn in by fancy video pokies with a very high variance, but the truth is that there's some fun to be had here and a top jackpot of 560,000 coins could be a life-changing sum of money depending on coin value you're using. Go on, give it a look!
Reviewed By: OnlinePokies.org