The Palace Groupie

Online Pokies Review

This Free Game is currently not available, please try

Jurassic Park

instead.
The Palace Groupie Free Online Pokie Game
How to play for real money
1 Download and install the free casino software
2 Register and create your new account
3 Make your first deposit. Your bonus will be automatically credited to your account!
Play for real money
Like The Palace Group, the title we'll be talking about today is—in part—a title designed to promote a group of casinos. It's easy to let the fact colour any The Palace Groupie online pokies review, but I'm nothing if not impartial so I'll be taking a proper look at everything the game has to offer before recommending it.
If you're not familiar with the concept of a 'groupie', this is someone who follows bands around...often in the hopes of hooking up with them. If you've ever seen the Jack Black movie School of Rock, you'll remember a funny conversation about this.
You might well wonder if the game can compete with other Australia online pokies; The Palace Groupie is a promotional title available at just a handful of casinos, after all. Well, I intend to take a closer look at the game's features and find out.
How To Play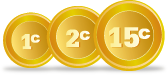 In most respects, the game plays like most other Australia online pokies. The Palace Groupie has got 3 rows, 5 reels and a scatter bonus—all the usual suspects—but there are a few things that set it apart from most other games.
Let's take a look at some defining features of the title:
243 ways to win - Ditching the normal payline structure, there are all sorts of different ways to strike it lucky in this game. Some other titles have done the same thing, but it's still a novel enough feature to add a few points to The Palace Group's online pokies rating.
Bonus features – There's a very good free spins bonus round to play here, but we'll cover more about that below.
Wilds – Disappointingly, wilds only appear on reels 2 and 4. With so many ways to win this is still a big help, but it'd be nice to see them on all reels. As with many other titles in our online pokies reviews, The Palace Groupie allows you to gamble your winnings by predicting whether a random card will be red/black or a certain suit to double or quadruple your winnings.
Graphics/Sounds
The Palace Groupie looks good. The graphics, animations and other visual elements have a rock 'n' roll feel – symbols like the groupie girl, rock star and the sign of the horns (that \m/ hand symbol!) are all here – and don't look at all dated or tacky.
The music is all cheering crowds and typical rock 'n' roll fare, and it's not as grating as some repetitive slots tunes. But then again, I did grow up in a house full of rock music fans. If you're not keen, you can just mute it...although I have to wonder why you'd be playing the game if you're not a fan of that style of music.
Bonus Features
Find 3 or more backstage passes, the scatter bonus symbol, and you'll be heading backstage—every rock fan's dream—for 15 free spins and a multiplier of 3x. That's about par for the course, comparable with The Palace Group and other similar titles, and is bound to be welcome whenever it turns up.
With a huge max bet of 250 AUD per spin, which might sound absolutely crazy to small-time players in Oz, 15 free spins with a good multiplier could potentially net you thousands or even tens of thousands of AUD to cash out. However, it's more likely that the average player will be looking at a jackpot of a few thousand.
The Palace Groupie Online Pokies Review
Our The Palace Groupie pokies review definitely bears some comparison with that of a very similarly named title, The Palace Group. There's not a lot to choose between the two – this title has more paylines and a higher max bet, TPG would get you one extra free spin in its bonus round – but both titles are much better than Aussie players might be expecting.
If you're a lover of rock music and Burning Desire doesn't quite do it for you, this is not a bad choice at all. If you've never been into that sort of thing, even The Palace Groupie's 243 ways to win is unlikely to make you stick around for too long.
It can take a little while to see the sort of wins you're looking for but, once you get there, it's easy to see why some players in Oz specifically head to Palace Group casinos to play The Palace Groupie. Online pokies review-wise, I have to give the game a good write-up as it really does deserve it.
Reviewed By: OnlinePokies.org